Volunteers Newsletter Number Two
VOLUNTEERS NEWSLETTER  (NUMBER 2)
"Volunteers Autumn is now definitely here, plus very high tides, lots of rain, and the clocks have gone back! 
At this time of year, it becomes more apparent to us at ViH of the value your volunteering brings to clients we help in our community; for those that are housebound, suffering from illness, loneliness, anxiety and struggling with the cost of living and the worry of getting to medical appointments – you are the people that are making the difference!  So be encouraged, 'together' you guys are doing something wonderful!  
Whilst volunteering in many ways is 'on your own' – one 2 one with the client – We want you to feel connected to your community of volunteers and help foster support and friendship with one another.  My hope is that this Newsletter, can start to be the glue that keeps you all 'up to speed' with what is going on throughout the organisation, present you with new volunteering opportunities, a portal for the online links for you to sign up to group events (face to face and online), workshops, training and, perhaps not so fun but very importantly, gives you the links to documentation that needs to be completed as part of your volunteer commitment.
This is about keeping you connected with us and each other, so please take the time to read all the way to the end,  look at each section and please respond to the links that are relevant to you.
Many thanks for all you are doing and if you don't have any and the rain persists, perhaps it's time to invest in welly boots?!"
Annabelle Murray (ViH Volunteer Coordinator)
CHRISTMAS PARTY!! whoop whoop! 1st December 8pm to Late at Alice Cross Centre
Yes, it'snearly that time of year again!  Get out your sparkly outfits on and have a bop!  We can't wait ????
RSVP:  please follow this link:https://forms.office.com/e/LFrsJfWNcN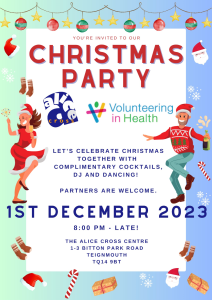 MEET A TRUSTEE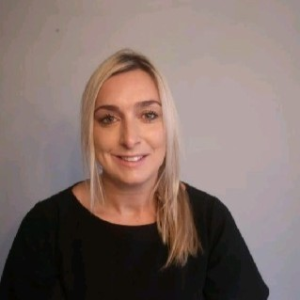 "I really enjoy my role as the treasurer trustee for Volunteering in Health, not only is it rewarding to give back to the local community via my skillset, but I have also met lots of amazing people who work very hard for our great charity." "
NEW VOLUNTEER OPPORTUNITIES
SITTERS AND DRIVERS NEEDED!We need more volunteer 'sitters' for our sitting service 'Time for You' – if you think you can help for 1-2 hours per week or by weekly, to sit with a client to help their carer have some well-deserved rest then please get in touch.  We are inundated with call to help take people to their medical appointments, if you think you can help by being a driver please contact: 
PARK RUN FUNDRAISER UPDATE
The Park Run was a great success on so many levels:  Amazing to have young people wanting to don our ViH T-shirts and run the length of the course (at breakneck speed) to fundraising in recognition of the difficulties our elderly population face; to hear our Manager, Julia Street, addressing the throng of runners and onlookers over the mic, with such passion for our community and what ViH is doing – proud moment for all the staff! And personal success – I actually got around the course too not running at breakneck speed though!  
Many thanks to all the volunteers that came down to support Nina in her run – either by watching, cheering or running and walking!
Nina has raised £319 towards her £500 target. If you would like to help her hit her target please follow the link, It would be a wonderful way to send a message out to our younger cohort of volunteers to get involved in fundraising in the future – and we already have some waiting in the wings to do just that!
Many thanks to all involved.  
Here is a link to a small film of the event – will it encourage you to get your trainers on for next time?!!:    
Here is the link to support Nina's efforts for ViH :   
AGM: MISSED IT?… NO, YOU DIDN'T!
The AGM took place on 28th September and was attended by people from broad spectrum of the health and care organisations and importantly our volunteers!  I would like to take this opportunity to say thank you to all the volunteers that took part and for those of you that came to hear the report.   For those of you that missed it – don't fret you can be virtually by following the links below!
ESSENTIAL CORE TRAINING BOUNDARIES, CONFIDENTIALITY, GDPR  24TH JANUARY 10.30AM – 1.30PM (BITTON HOUSE TEIGNMOUTH)
Thank you to those of you that responded to this post in the last newsletter and followed the link to sign up ????…. if you haven't read on!
Over the last year ViH have been rolling out a training program for our volunteers, which has proven to be beneficial to staff and volunteers alike.  (Watch this space because we are going to have some engaging and challenging training opportunities coming your way for 2024.)
In the meantime, we are really focused to ensure that ALL our volunteers have completed our essential core training – so far 80% have – so this post is for the rest of you!  By the end of January we want everyone to have completed our essential core training – the clue is in the name ….'essential'… so we are giving you plenty of time to get this date in your diaries so that we can have 100% of our volunteers all on the same page and delivering a top quality 'safe' service to the community.
This is ONLY for volunteers that have NOT already done the core training this year.
If that's you, please follow the link to reserve your space and ask questions:
BINGO NIGHT 7
th
 DECEMBER 7PM – EYES DOWN 7.30
PM TEIGNMOUTH
 RUGBY CLUB
Bingo Night in September raised £570 all ofViH!  So, a very big thank you to everyone that attended the event ????
The next Bingo Night will be on the 7th December in support of Dawlish Hospital – so if you fancy a night out for a bit of a giggle in the run up to Christmas – this is for you!
A NIGHT OF COMEDY AT THE ICE FACTORY
We are constantly amazed by the calibre of our volunteers – on this occasion it is one of our exceptional admin volunteers (who hides in the back office most Wednesdays) Larraine!  She is writing and directing a comedy at the Ice Factory for this Spring.  So of course, the ViH Team want to go, and want to give you the opportunity to come too!  The play is called 'Nothing like Brief Encounters' , Thursday 30th May 2024.  Curtain Up 7.30pm, Bar open from 7pm.  Discounted ticket for ViH for the first night only £10.  The Auditorium holds 50 seats, so reservations are on a first come first serve basis.
TELEPHONE BOX: 'VIH CONNECT' LOCATED AT ASHLEIGH WAY TEIGNMOUTH 
If anyone is looking for bargain Christmas presents or a book and jigsaw puzzle to do over these wet cold autumn days… go no further than our very own telephone box located on Ashleigh Way in Teignmouth. Full of lots of different treasures it's a tiny emporium of wonderment! So far it has raised around £90 and living up to its name 'ViH Connect'.  If you would like to donate any jigsaws (with all the pieces, please!) or books (with all pages present!) please come down to the Hub and drop them off.
VIH SUPPORTING ROWCROFT'S PROJECT: GET INVOLVED!
We are supporting Rowcroft in this project to find clients and people with experience of using their services to help them in this project.
Rowcroft – Tech for Better Care (T4BC)
To develop wearable technology or/and an App that supports people at the end of their life and their loved ones to access palliative care and support at home, helping to develop and maintain relationships by providing human intervention, when they need it. This may be in their own private home, temporary dwelling, assisted living or residential care.
Rowcroft hospice wants to provide care to an additional 500 people each year by 2030 to meet the growing need for those living at home with a life-limiting illness.
They are hoping that we can embrace innovative technology to help us do this. We believe that technology may be able to assist us with providing quality proactive care when and where people need it.  With less human resource in the future as the workforce nationally is stretched and the rurality of our locality sometimes affecting timely access, we want any technology we develop to be personal, connecting the person to a human voice and providing assurance that a knowledgeable health or social care professional can visit when needed.
Please find attached a link to the questionnaire on Microsoft forms and the QR Code.
Ideally, we would like to receive all responses by 15th November.
"Thank you for all your support and time volunteering with us.  The next newsletter will be winging its way to you as you fight with your Christmas trees and fairy lights and will share further information for the year ahead!  Until then enjoy the Autumn Charm" ????
Annabelle Murray
Volunteer Coordinator
Telephone  01626 771695
Email  annabelle.murray@volunteeringinhealth.co.uk
 or info@volunteeringinhealth.co.uk
Work days: Monday, Tuesday & Wednesday 9.30am -3pm