One of our Wellbeing Co-ordinators shares how her experience of facilitating the HOPE course has helped her during lockdown:
Whilst training to deliver the HOPE course, my awareness was raised about how difficult it is for individuals to change their thought processes, especially when they are coming from a place full of anxiety, depression, pain and debilitating conditions. For many of our clients, these thoughts are deeply ingrained after long periods of feeling disempowered.
It got me thinking about my own life. I did not have a healthy work life balance and was too often in an auto pilot state. I was going through daily activities mindlessly, not noticing what was happening in any given moment. I would go for a walk without noticing the beauty surrounding me in this wonderful place I live. My head was too buried in planning work; thinking about what I had not yet done; what we will have for dinner; berating myself for not doing the pile of ironing.
I asked myself: is it fair to be asking others to work on challenging and changing their thoughts when I'm not doing the same?
Under lockdown I have had some more time and headspace to reflect on my own life.  I made a plan for myself, based on the Five Ways to Wellbeing:
Give – I am finding new ways to give a little bit of happiness to others: a bunch of flowers for a neighbour; a special date night meal for my husband; books left outside my house for passersby to take and enjoy; a phone call to someone who might be feeling lonely.
Be active – Going out for walks; getting back into practicing Tai Chi, a gentle mindful exercise that I enjoyed for years but that had gone by the wayside recently.
Connect – I have been finding new ways to connect with people during lockdown, making the effort to phone old friends and see them when I can.
Keep learning – I have enrolled myself onto an IT course, something I have been putting off for a long time, mainly out of fear.
Take notice – I have been actively savouring that first cuppa in the mornings, giving myself plenty of time to eat lunch and notice and enjoy the different textures and flavours.
Mindfulness is about living in the present, having a moment by moment awareness of our thoughts, feelings, body sensations and surroundings. By using the plan above, it is getting easier to live more mindfully. On those days where I don't do so well, I brush off the feelings of self criticism and start anew the next day.
Using mindfulness to my advantage has helped me to get control of my thoughts and feelings. I now find I have more time. The more I am giving myself precious moments to actually be me, the happier I feel. I'm laughing and smiling more. I feel more empowered and relaxed; my life is calmer and less stressed.
There was an elder Cherokee Indian talking with his Grandson.  He was telling him about the battle 2 wolves were having inside him.  A terrible fight!

One wolf battling with anger, envy, sorrow, regret, greed, arrogance, self pity, guilt, resentment, superiority and hatred.

The other was full of joy, peace, hope, serenity, humility, kindness, empathy, generosity, compassion and truth.

The grandson grew quiet and after a time asked, "Which one will win, Grandfather?"

The Grandfather turned to him and said, "The one I feed!"
I love this story. Mindfulness is about being kind to ourselves and others. Feeding the wolf that is giving attention to the positives, embracing change, noticing all the wonderful things around us – and there are things, we just need to look for them! This helps us reframe the old negative thoughts and ideas. Let's embrace the belief in the power we all hold within us, it empowers us to be the best we can be.
…………………………………………………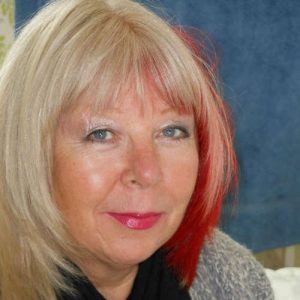 Teresa (left) is one of our Wellbeing Co-ordinators and one of the main facilitators of the Help Overcoming Problems Effectively (HOPE) Course, which helps people think more positively and become more confident and empowered to manage their own health conditions, using tools like mindfulness and gratitude.  We are looking forward to bringing the course back once lockdown restrictions are eased and it is safe to do so.  To find out more, or to make a referral, please phone 01626 771696 or email info@volunteeringinhealth.co.uk