Sadly, both my mum and my grandma died during the coronavirus pandemic. Both deaths were expected. My grandma was almost 94 and had been in hospital with covid-19, but did recover enough to come home for her last week or two. My mum had been diagnosed with bowel cancer two and a half years previously and had already outlived all her doctors' expectations.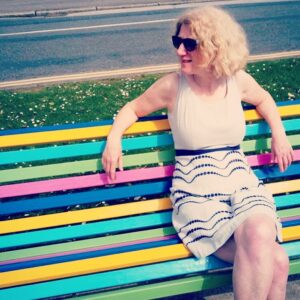 We had always talked quite openly about death in our family. From a young age I knew where to find Mum's Will and other important paperwork in case anything happened to her. We would talk about who we would want to look after us if Mum died.
But even so, it was difficult to have some of the conversations we needed to, and they got harder the sicker she got. But we did have them. We talked through her treatment options, where she wanted to die, what she wanted her funeral to be like, and what she wanted to do before she died. And because we'd talked openly about these things, we were able to make them happen. She finished walking the South West Coast Path, got married, made new memories with old friends, was able to die at home, and her funeral was a true celebration.
When I was pregnant I read all the books; I went to antenatal classes where I was taught how to prepare my body for giving birth, what to expect when I went into labour, what's normal and what needs to be a 999 call. I was supported in writing a birth plan, getting my preferences down on paper so that I could be sure my husband understood them and can fight for them even if I wasn't able to.
But how many people write a death plan? Generally, of course, we don't know when or how we are going to die, but we do all know it's going to happen eventually. And hopefully it won't be in some awful sudden accident, but we will have some warning, some time to prepare, to get our affairs in order, say our goodbyes. 

If you could choose and control your death to some extent, what would you want it to be like? Would it be at home where you are in familiar surroundings, or would you feel safer in a hospice or hospital surrounded by doctors and nurses? Who would you want there with you? Do you have any specific fears that someone should know about? What are your spiritual beliefs? Is there a certain piece of music you'd like to be the last thing you hear, that your loved ones will hear and be reminded of you? 
As with a birth plan, none of these things can be guaranteed. But if you have thought about them; talked them through with the right person; got them written down somewhere; then you are much more likely to get them, even if you're not able to communicate effectively at the end. It's so much easier to talk about these things when we are well and it seems like it won't really happen to us. Once you know you're ill it can be too late and too upsetting to have these conversations. 
I had planned a home birth with my first child but ended up being induced in hospital. My birth plan didn't go entirely out of the window though. Knowing that I had planned a home birth told the midwives what sort of birth I was hoping for so that they were able to make it as close to my planned home birth experience as possible. (Second time round I got my home birth!)
What about after the death? How many times have you heard someone say, "I want this song played at my funeral"? It's no good saying that if you're not saying it to the right people or they're not really listening. Tell those people, write it down! How do you feel about being buried or cremated and where would you like it to happen? Have you written a Will? Do the people who will be dealing with your estate know where to find your Will? Are they going to get any surprises when they read it, and if so, do you want to warn them? 

But more important than all of that: is there anything you want to do before you die that you haven't done or at least started working towards? Any unfinished business that you need to deal with? Don't wait until you get sick – do it now! Get in touch with the old friends that you miss. Tell people you love them, say your sorrys and thank yous. Jump out of that plane. Travel the world. Life is too short not to. Plan as if you'll live forever, but live as if you'll die tomorrow. No regrets!
My Mum's bucket list was fairly straightforward, she'd done most of the things she wanted to, but she hadn't quite finished the South West Coast Path. She was all set to do the final 13 miles the day before she started her first round of chemo, but received a phone call the day before asking her to come to the hospital for a scan the following afternoon. Rather than letting that scupper her plans, she simply got up at 4.30am and set off for Falmouth to determinedly finish off the last 13 of 630 hard miles of coast path (pictured above at the end of that walk). But if she hadn't got started on it years before she would never have been able to accomplish that dream. 
The past year for me personally, and for all of us watching the death toll rise with Coronavirus, have really highlighted how important all of this is. Life is too short not to do the things we want to do. And death is hardest on the people left behind, but there are things we can do to make it a little easier for them. It might mean some really difficult conversations, but they will be worth it when you can look back on your loss and know you did everything to give your loved one the death they wanted and there isn't a feeling of unfinished business or any guilt or regret.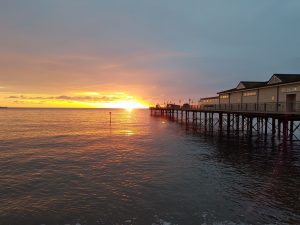 Your health may be declining in a way that you can't control, but that doesn't mean your wellbeing has to decline with it. The skills that our Wellbeing Co-ordinators teach, like mindfulness, gratitude and goal setting are just as valid and useful at all points of life, right up to the end. However ill you're feeling, however sad or angry you might be about your situation, there is always something to be grateful for. For Mum, that was often appreciating flowers she received, pictures of sunrises she could no longer get out to see. She was always grateful for the kindness of the people taking care of her, and for the life she'd had.
In her last few months, as we went into lockdown and foodbanks were facing huge demand, Mum set up a fundraiser for our local foodbank. This has raised almost £5000 to support local people through difficult times. Volunteering in Health works closely with the foodbank to help food parcels get to the people who need them most.  In December, she was awarded a Lifetime Achievement Award from Teignbridge Council, in recognition of her 20 years working as a teacher at Shaldon School, including setting up the Pen Pals project with Volunteering in Health.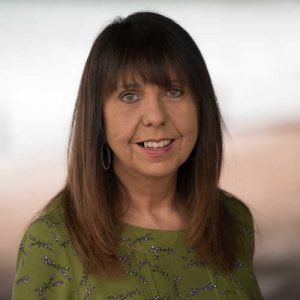 Our Support Worker, Jan Bourne (left), works with people who are coming to the end of life and their families. She works closely with the team at Rowcroft Hospice and the rest of the Volunteering in Health team. To make a referral to Jan, or for any of our services, please contact us on 01626 771696 or info@volunteeringinhealth.co.uk.
If, like me when pregnant, you like to read everything you can about a topic, you may enjoy the following books about dying:
With the end in mind by Kathryn Mannix
When Breath Becomes Air by Paul Kalanithi