Meet the Managers
At Volunteering in Health, we have a management team of four part time staff each bringing different skills and experience to the charity to ensure it runs smoothly day to day, supporting as many people as possible in the right way for them, as well as making plans for the future sustainability of the charity.
Chloe Myers – Manager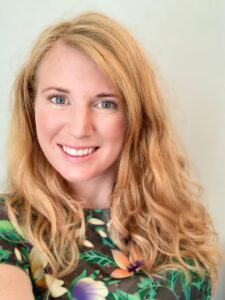 I joined Volunteering in Health in 2014, when I was responsible for recruiting and supporting volunteers, visiting clients who had been referred for a befriender and matching them up, and developing the then brand new Home Help service. Previously I had worked in welfare to work, supporting people with disabilities to find work experience and employment.
My husband and I both grew up in Teignmouth so I am passionate about working in my local community and trying to make it an even better place for my children to grow up in.  Living here, I try to make the most of the local area by walking on the coast path, and getting out on the water too: rowing, kayaking and paddle boarding.
Over the last couple of years, I have really enjoyed being involved with the Wholelife project and think that it's a great analogy for how the voluntary and statutory sectors can help people work towards the same goals in different ways and for different reasons: whilst someone may need to eat a healthier diet with less meat and dairy for their health, they may be better motivated by the impact they personally have on the environment or animal welfare.
Miia Thomas – Office Manager
I joined Volunteering in Health in 2016, after spending nearly 12 years at home, parenting my 4 children full-time. Before having children, I worked in a busy Social Services Department, and have previously worked or volunteered in medical and childcare settings in Australia and East Africa. However, being out of the work environment for so long, I had lost my confidence. Finding myself with time on my hands when my youngest started preschool, a friend of mine suggested joining Volunteering in Health as a volunteer administrator, which helped me to regain my confidence in the workplace, so I am a big advocate of volunteering to gain skills, confidence and experience!
My role as Office Manager is quite varied. I support the wider team by keeping things organised day-to-day, as well as keeping an eye on the statistics so I can help identify any gaps in funding, or if we are becoming much busier with certain types of referrals.
To maintain my own wellbeing, I love walking on the moors or the Coast Path with my family. I also enjoy a bit of sea dipping; I'm not a distance swimmer, but I do enjoy a bob in the water – even in the winter! I am also a member of Teignmouth Baptist Church, which is a lovely community!
Working for a charity that does so much good in the community definitely makes coming to work feel like I am doing something useful and worthy – and when you add in that I get to work with such wonderful, caring people, who practice what they preach – it's a great place to work.
Jeannette Osmond – Team Leader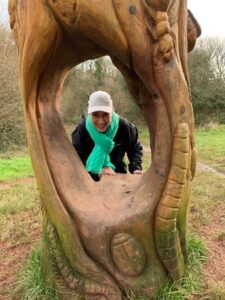 I have been working with Volunteering in Health since 2014, starting at Dawlish Hospital as a Link Worker, before going on to become one of the first Wellbeing Co-ordinators and HOPE course facilitators. My previous work involved supporting children with learning difficulties in a social work setting. Before this I spent some time living in Canada where my family began to grow!
As Team Leader I support our fantastic team to manage their caseloads and seek the support they need so that they can, in turn, support others.  I try to treat my team as they treat the people they support – with understanding and empathy, looking at the whole picture, because we know that what's happening at home will affect our work, just as our work will affect our home lives.  It's also a good way for the team to experience being on the other side of some of those searching, difficult questions which can make us feel quite vulnerable but help us make the changes we need to.
Being a part of this deeply empathetic team has encouraged me to engage in more activities for my own wellbeing. For example, my daily seafront walks and joining the Healthscapes Team for a dip in the sea!
Nicki Engert – Finance Officer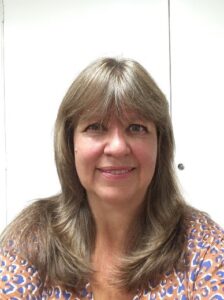 I joined VIH in August 2018, initially as an Accounts Assistant. I was promoted to the role of Finance Officer in 2020 and am now part of the Senior Management team. I feel grateful every single day to be part of such a diverse, talented and unique team.
I am responsible for all the day to day financial activities for Volunteering in Health such as sending out invoices, banking, payroll, payment of supplier invoices and processing & tracking expenses.  Throughout the year, I monitor the financial position of the charity and regularly provide financial reports to the Trustees and Management team.
I'm a numbers person, so I enjoy working with spreadsheets and finding creative ways to produce reports and views of the finances to present to the team and trustees.
I love to walk, particularly costal walking.  Currently I am working my way on a virtual walking challenge from Land's End to John O'Groats.  I also enjoy a good pub quiz.