Winter 2020 certainly brought its challenges, especially for those with memory issues and their carers. The enforced isolation and lack of socialising has had detrimental effects on everyone's wellbeing, but 'Dementia is now the main underlying condition for Covid-19 deaths, accounting for one in five of total deaths. And beyond Covid-19, people have been dying from dementia at almost twice the usual rate.' Frightening statistics from the Alzheimer's Society. People with dementia are particularly vulnerable to Covid infection because of their age, multimorbidity, and difficulties in maintaining physical distancing. Below our Support Worker, Amanda, shares some of the work she has been doing this winter.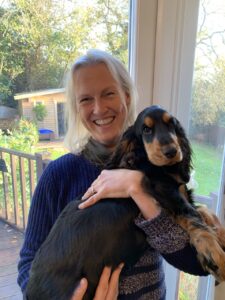 Covid has very much changed the way that I work. Usually I would visit and support my clients in their homes and build a rapport mostly face to face. I have had to adapt and be very innovative in supporting our clients safely during these hard, isolating times. Therefore, much of my work during this period has been supporting clients via telephone, or on their doorstep from a distance, wearing a mask.
Inbetween lockdowns I was able to drive a client to a local knitting group. She thoroughly enjoyed it and continued to go weekly using VIH transport who walked her in and chaperoned her out again. Her daughter later told me: 'Mum was raving about her day out when I arrived this afternoon. Going out on Tuesdays is amazing for Mum as she doesn't see anyone that day and it gives her something extra to do. Thank you for walking her dog with her I am sure he appreciated it too! Thank you so much for everything.'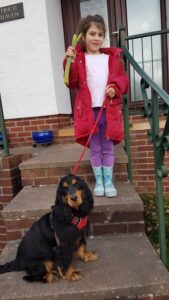 I also took our puppy and my 7-year-old daughter on a surprise visit to several lonely, isolating clients and surprised them from a safe distance with a lovely bright bunch of flowers. Their response to hearing a child chatting about Christmas and watching my puppy bounding around was wonderful to watch. We were told 'you have made me think of new beginnings', 'this has brightened my day' and 'how wonderful to be thought about, it means so much to me'. I was able to check that they had everything that they needed. It was a very uplifting, heartwarming and such a positive, uplifting experience for us all.
I also had the pleasure of escorting one lady to the memory café before Christmas and the 3rd lockdown. She was extremely nervous about going. She needed a little gentle persuasion to leave the house, but once there she didn't stop laughing, singing and chatting. She told me that it had 'lifted my spirits enormously' and that she would now love to attend regularly. She was very keen to take away with her some crosswords to complete at home and this gave me the idea of sending out activities packs for many of my clients who love games. I have found many free printable resources for dementia friendly quizzes and coloring in (including colouring pencils) to post out and hand deliver to our clients and keep them cognitively stimulated and busy. We posted out some beautiful handmade Christmas cards made by one of our volunteers to clients, which were well very received and made people feel remembered and valued.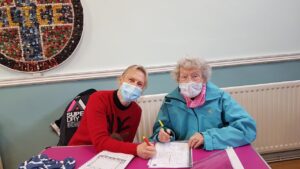 Sadly 100% of carers that I currently contact report that they are completely exhausted. They are not having any breaks due to the limits imposed by Covid and many have reported a regression in those they care for. I have noticed an increase in reports of dementia clients showing signs of regression, aggression and depression. It is therefore more crucial than ever that we are able to lend an ear and offer ongoing support to carers during Covid.  Our Time for You sitting service is still running but only on a very small scale due to the lockdown but we are ready to support carers to have a break as soon as lockdown allows!
We have supported a local couple for the past 6 years. The wife (who has cancer) is the main carer for her husband who suffers from extreme fits. Over the years they have been supported by ViH with transport, trips out, home help, carers groups, befriending, and they currently receive support from our support worker, Jan, who specialises in End of Life support. We have all at times liaised with the Adult Social Care team, Intermediate Care Team, District Nurses, Carers, and other sources to support them, especially recently when the wife was hospitalised for several nights, leaving her husband needing care and support put in place.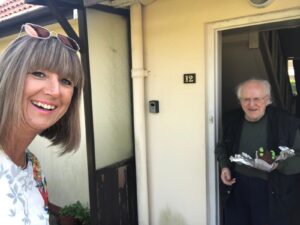 A befriender that I recently matched regularly bakes cakes for my client, who says 'they put a smile on my face and make me feel loved, I have been so lonely since my wife went into a dementia care home.'
The Alzheimer's Society report that 92 million extra hours have been spent by family and friends supporting those with dementia during Covid. It is critical that these carers feel supported. I signpost/ refer every carer to Devon Carers and we look at ways to make them feel less alone in this imposed role. I also signpost to online carers support groups where carers can share what it feels like to look after someone, have some time for THEM, get more info on support and local services, and share ideas.
During the last quarter I have supported 59 families. 23 of these have been referred on to Devon Carers for support (and many more before this period) and advised on our sitting service which we hope to be back in full swing as soon as restrictions allow.  Three have been referred for our Home Help Service this quarter and we have matched 14 lonely people (with a goal of more social contact) with a befriender who makes weekly contact with them.
To make a referral for someone with dementia, or their carer, please call 01626 771696 or email info@volunteeringinhealth.co.uk