Imagine a life holding on to distressing things in your mind, afraid to let anyone know what has happened in case you are judged for it.  Below our Support Worker Julie Dingley shares the story of a client she has been working with.
I have been talking to a local lady in her 40s weekly for the last 6 weeks. She had not been able to sleep without the use of diazepam and this was making her feel depressed and anxious. Not being able to socialise with friends during the pandemic was also leading her to feel very lonely and isolated, and she had lost her confidence.
One week as our call was coming to an end, I reminded her, "If you need us in between times you can always text me," also letting her know that I only turn my work mobile on when I am working, so in case of any urgent needs she should phone the main number to speak to someone.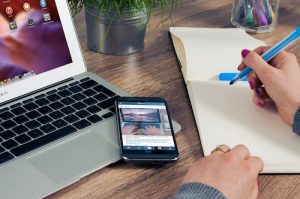 The next time I turned my mobile on, lots of fairly graphic messages came through about her past traumas of being abused, raped and drugged. I could sense her relief at sharing her story for the first time.
This is something that happens quite often in our privileged position of not quite health professional (where it all feels quite serious or the client might not want to take up their time) and not quite family member or friend (where they might have their own agenda or even know the person being accused). We take time to build trust and rapport so that when a client shares something with us they know that it will be kept confidential and they won't be judged.
I spoke to my Team Leader and to my colleagues at our weekly group supervision meeting, where they also gave me ideas of where to get additional support. I was then able to give her a contact for Mind and for Exeter Rape Crisis Centre. It felt really important that she could get specialist professional help on these things whilst I continued to support her with moving forward and achieving her goals.
The following week I gave her some relaxation ideas that she could try to bring her back to the present. Every time her mind starts to wander back to the past she now twangs a hair band she has round her wrist to 'bring her back'. Today I had a message from her thanking me for the relaxation techniques and she said that she had been having her best sleep in months, without the need to take diazepam.
When discussing her goals, she said that she'd like to do some voluntary work helping homeless people. I have given her the number of Homeless in Teignbridge Support and explained how they have supported some of the clients I have been working with. She has now set herself a goal to volunteer with them this year, something which I think will help her rebuild her confidence and skills – just like it has for me.
Recently there was an opportunity for me to attend a zoom meeting with Devon Partnership Trust where they were discussing trauma, so I went along to see if there was extra information that could be made available. I was pleased to see that the place they were recommending was Mind which I had given her.
Teignbridge CVS run a range of courses for staff working in the voluntary sector and recently ran a fantastic course about boundaries which several of our staff attended and found very useful – especially whilst it has been so difficult to distinguish work and home life during the pandemic.