At the beginning of the 2020, we were part of a 28 day plant based challenge, led by local consultant gastroenterologist Dr Alan Desmond and GP Dr Jenny Corser.  At Volunteering in Health we held weekly plant based bring and share lunches throughout the challenge.  Plant based chefs, The Happy Pear, visited from Ireland to launch the project with events at Shaldon School and The Alice Cross Centre, and even managed to drag about 30 people into the sea at sunrise on a frosty January morning!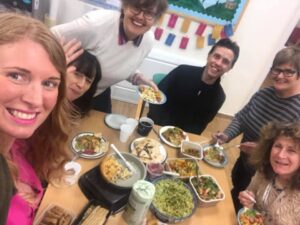 For the challenge, over 100 local healthcare professionals ditched meat and dairy for a month.  Even with no calorie counting or prescribed exercise, challengers lost weight across the board.  Those who started the challenge with a high cholesterol all finished it within the normal range.  Our hope is that those 100 healthcare professionals will go on to consider how diet might be affecting their patients' health, just as they would smoking, alcohol, exercise or loneliness.
Many challengers felt inspired to take on more exercise too – here are four challengers together on the Teignmouth Parkrun.  One told us, "So pleased l did the run today and managed to finish! I must say I feel more energised since starting the plant based eating."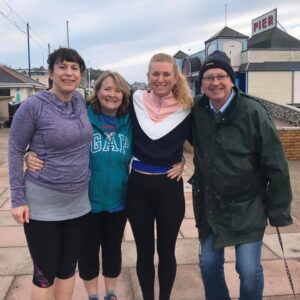 David, pictured above on the right, gave some feedback on the challenge here.  The challenge didn't just change his diet, it got him into cooking for the first time in his life too!
You can read more about the challenge and how to make these changes for yourself and why in Alan's book The Plant-Based Diet Revolution or The Happy Pear's book The Happy Health Plan.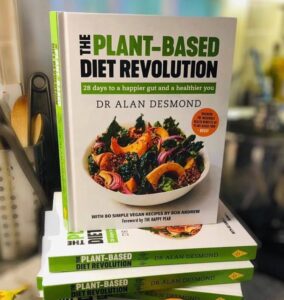 All this is important because three quarters of people hospitalised at the beginning of the pandemic had underlying health conditions such as heart disease or type 2 diabetes. More than two thirds of the UK population is overweight or obese.  Not only does this increase our risk of dying, but it reduces our quality of life whilst we're alive too.  So we are excited to be taking this forward now with our local Primary Care Network to support more people to make positive, preventative and sustainable changes to their diet and lifestyle so that they can lead happier, healthier lives.
We want to help people eat more healthily, exercise more, and get involved with their communities.  But the really important thing that we do here at Volunteering in Health is support people to recognise and work through the barriers that are stopping them from doing those things.
That means we help sort out housing and benefits, help people get the statutory support they need, help them build the confidence to get out into the community and meet people.  Only once these things are in place can people start to think about making major lifestyle changes.  We then work with clients to understand their motivations so that we can encourage them to keep going long term, even when it gets difficult.
Having the voluntary sector work closely with the Primary Care Network and wider statutory sector allows us to work flexibly and use different approaches to ensure we can support each person in the right way for them.​  Our local Primary Care Network (Teignmouth, Dawlish and Chudleigh) has now launched its Wholelife Programme, a seven week course (currently online) to support people through a similar plant-based challenge.  Ask your GP for more information about this!