If you read the health sections of any paper, you will likely have come across the growing interest in Wild Swimming and Cold Water Therapy.
Cold Water Therapy is all about spending time in cold water – its proponents say it works wonders for metabolism, circulation, general immunity and, significantly for many people who have struggled with their mental health over the past year of lockdown, there is increased evidence that it improves mood.
Wild Swimming is swimming in the great outdoors – in rivers, lakes, streams, or, for many people in our local area – the sea; and is both exercise and cold water therapy!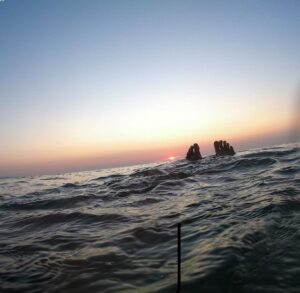 I have long enjoyed summer sea dips, but in 2020, I decided to set myself a goal to swim at least once every month of the year. I didn't set myself a time limit – I just had to get in and swim a few strokes. January in Sidmouth on a frosty morning was bitterly cold, I enjoyed hours in the warm sea off Adelaide in April, where we found ourselves temporarily stranded when lockdown hit, and through the months of lockdown and social distancing, the sea around Shaldon became my haven. Sunrise swims through the autumn were a wonderful way to wake up before a day in the office after 6 months on furlough!
In 2021 I decided to do the same challenge – to swim at least once a month throughout the year, this time giving myself a new goal of swimming 100 strokes each time, and just staying in longer if I felt like it! When lockdown hit in January, I would meet a friend once a week and go for a dip. It was a break from home learning and all the screen-time that seemed to have taken over my world, and an opportunity to chat and catch up with a friend in a way that bordered on 'normal'!
Swimming in the sea on a blowy day in March is cold, but invigorating. I don't have much in the way of kit – I swim in a swimsuit, and have neoprene gloves and socks (it's too painful for me in the winter without these!) I have a poncho towel, and another towel to stand on while I change if the sand is frosty. That's about it. Having a set amount of strokes is helpful for me – it means I concentrate on counting, rather than how cold I feel. And it helps me to monitor how long it takes for my breathing to regulate. In October, I'd be breathing normally after 8-10 strokes, in March it took more like 30-40!
When I am in the water, I just think about where I am and what I am doing right then. It's a kind of mindfulness. I am aware of the cold, but I focus on moving, on breathing, and on counting. There is no space in my head then for statistics and reports, my children's homework, or the wallpaper peeling off the ceiling in the hallway. All those daily distractions melt away as I bob in the water.
It also helps me to connect with nature – through the summer, I spend hours swimming and snorkelling in the sea, and enjoy seeing the different fish and sea-life under the water, wondering at how varied and beautiful it all is. Being tossed about by wild October waves reminds me of the power of nature and how we need to respect it. I am a Christian, and last year was baptised in the sea on a particularly wild and windy day, and there was a significance to me in placing myself into the path of that wild strength, as I placed myself into whatever adventure lies ahead of me!
Swimming can also create community. There are lots of Wild Swimming groups set up around the country, and regular swims are often posted on their Facebook pages. Social Distancing and Lockdown rules have meant that many of these groups have had to do things differently, but even for someone who doesn't swim in a group, wild swimming leads to social interactions and conversations. I have lost count of the number of times I have come out of the sea to a pair of dog walkers stopping to ask me 'how is it in there?' or commenting on my sanity (or lack of it) – but as I explain to them, actually this is an activity that keeps me sane! It gives me the headspace I need.
The wonderful thing about Cold Water Therapy is that you don't have to be a great swimmer to enjoy it. Healthscape offer Cold Water Therapy sessions in Teignmouth each week – Jeannette, our Wellbeing Co-ordinator went along to one of the first sessions in March, and shared her thoughts:
'Being in the sea is a memory I strongly associate with childhood holidays visiting my Nan. Since moving to Teignmouth I loved that my children could spend time in the sea, but I realised that I hadn't done it myself for some time. I heard about Healthscape sessions starting in Teignmouth and I signed myself up. I was anxious about joining a new group, as well as the whole idea of getting in the water, but the team were really understanding of this and supported me every step of the way. I had seen lots of people swimming in the sea all year round and, while I wished I could do that too, I was not a confident swimmer, but I set myself the goal just to get into the water. What I love about the Healthscape dips is that this is what they are about – simply going in the water – getting the benefit of the cold water and its positive effects on your body and mental health; it is not about how far you can swim, so there is no pressure – it's all about doing it your way, at your pace – and that makes it so much more manageable and comfortable. The team is on hand to make sure that everyone stays safe – offering safety advice on entering, being in, coming out, and after your time in the water. My first time going in was exhilarating – everyone was squealing with delight – (and with the cold!); but there was a sense of community – we were all doing this new thing together. Being in the sea helps me to connect with the water – with nature. I can take the water at my own pace and it gives me what I need. When I am in the sea, my movements are different, there are no barriers, there is no pain, I am weightless. In the water, I find I am free.'
The Outdoor Swimming Society offer information about outdoor swimming, and keeping safe in the water.
To find out about local Healthscape sessions in South Devon, see www.healthscapecic.co.uk
If you would like support to reach your goals, water-related or otherwise, please contact us at info@volunteeringinhealth.co.uk or by phone on 01626 771695.