Hannah Shiels has recently joined our team and will be based at Dawlish Hospital from 20th April supporting people on the ward and their families at home, throughout their stay and as they return home or perhaps make a transition into a care home.
.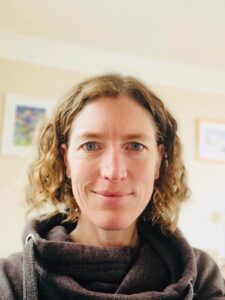 I've just started working for Volunteering in Health. It's been a strange start to a job. New starts can be daunting. Not knowing where you're going, what you're doing or who anyone is can leave you feeling lost and out of place. I usually feel anxious and don't enjoy the first few weeks at all as I start to find my way around an unknown environment and unfamiliar new people. In addition, Covid restrictions mean that most people are still working from home and meetings are on Zoom. It's all just a bit strange and scary really.
.
Luckily for me, the people who work at Volunteering in Health are some of the friendliest and most welcoming people you could hope to work with. I've never felt at home with a new group of people as quickly before. And it's not just the team here. Thanks to Zoom, I've met people from other organisations too. I've met Julia from the Alice Cross Centre; Nat & Claudia from
Healthscape Teignmouth
; Tracey, Nina & Esther from
Lighthouse South Devon
; Michelle & Becki the social Prescribers with the local Primary Care Network; Katie from Teignbridge CVS; Julia & Suzy from
Moorland Community Care
; Kate from
Dartmouth Caring
; Jenny from
Totnes Caring
; Tom from Devon Partnership Trust plus all the friendly and welcoming people I met when I visited the Office in Teignmouth Hospital and met the Community Nurses, Intermediate Care Team & Physios.
.
I've also had the opportunity to contact some of the Volunteering in Health clients who aren't currently using our services, to see how they're getting on and see what support we can offer them as lockdown is eased. It has been lovely to be able to talk to these people, some of whom have been coping brilliantly and don't need any extra support, but still appreciated a chat and others who I was able to talk to about ways in which we may be able to help them – whether that be with Transport for medical appointments, Home Help, working with a Wellbeing Co-ordinator, or directing them towards the
Alice Cross Centre
as it reopens.
.
Maybe it's the start of Spring, maybe it's the better weather as the sun has started to shine in recent weeks, maybe it's the end of lockdown, maybe it's something else, but right now I'm feeling really positive about my new job.